Offer Features & Benefits
Machine Package & More...
Whats included ?
​
You get a Direct Drive Walking Foot Industrial Sewing Machine with energy efficient direct drive motor. Don't worry if you haven't sewn before you can adjust the speed to very slow. 1 year back to base warranty.

White water Oil

A pack of needles

Bobbins

Screwdriver set

Protective dust cover

Manual

Delivery - If you live in the Highlands or Islands you may incur an extra charge. Delivery charge to Europe will also be quoted depending on where you live.

Left cut zip foot

Right cut zip foot

1/4" piping foot

2 x 3500m Cops of Amann thread

A live 1 hour video/Skype call to help you with any problems setting up or starting off
​
Direct Drive Walking Foot Machine
Heading 1
​
An energy efficient industrial walking foot machine which will tackle most heavy duty jobs that you may want to try such as Car or Marine Upholstery, sewing leather, sewing a lot of layers or maybe things like dog leads or dog beds, carpets, horse rugs, curtains, boat covers, tents, marquees, bouncy castles, furniture upholstery, cratch covers or soft tops/car hoods - the list goes on.....

Everything you need to get started for the machine such as your oil, needles, bobbins and the manual
A selection of feet that will cover most jobs - Piping & Zips
Free Delivery to your door - see above if you live in the Highlands/Islands/not in the UK
2 Quality Threads from Amann so you know you have the best start with the best threads
A small outlay to start your own business in areas such as Car upholstery, marine upholstery, furniture upholstery, making curtains, bouncy castles, tents, marquees, horse rugs, horse box upholstery, boat covers, cratch covers, soft tops, tonneau covers, recovering gym equipment, caravan upholstery, motorhome upholstery etc
1 Hour to help you through any set up problems or getting started problems - scheduled at a time to suit both of us
Access to a helpful info site with how tops and useful tips
BONUS BENEFITS - Free sewing machine video course
BONUS BENEFITS - Free seat upholstery course
BONUS BENEFITS - continued support
​
​
You will also get a video course on how to upholster a Car Seat which will teach you the following...
How To Upholster A Car Seat
Course Modules
Module 1 – Setting Up Your Work Area
You will learn how to set up your workshop and get to know the tools you will use. Your work area does not need to be large – just very organised. There are not many specialist tools. In fact, the biggest item you will need will be your sewing machine. BUT don't panic, you don't have to run out and buy one at this stage, there are now quite a few companies that hire them out worldwide, making it really easy without putting a big initial investment before you actually know whether it's for you or not. If you need help with this email us the area you live.
Module 2 – Industrial Sewing Machine Skills
You will learn how to use an Industrial Sewing Machine. You will practise some skills for a while before you move on. The more confident you are with the sewing machine the easier the following Modules will be, so take your time and enjoy!
Module 3 – Preparing to Strip Your Seat
In this Module, we will show you the correct way to prepare and strip your seat, giving you loads of tricks and tips to make your life easier.
**FREE TIP – Taking pictures before you strip the seat is priceless when comparing where fittings are placed and how the materials sit. So keep your camera or phone handy!
Module 4 – Vinyl's, Leather & Fabrics
In this Module, we will teach you the different types of materials you will use in car upholstery. The list is endless!
**FREE TIP – Make sure you buy good quality vinyl's and materials, don't skimp as a stretch can be difficult to work with when you are new to car upholstery.
Module 5 – Repairs to your Seat Form
You will learn how to repair a seat form (Jargon Alert!) We will show you a few essential repairs that will save you a lot of time and money buying a new one. Most seats suffer from drivers and passengers getting into a vehicle, they use the seat sides as support instead of sitting directly on the seat base. This is the cause of most repairs. This just needs additional support to repair it and we will show you how!
Module 6 – Marking & Templating
In this Module you will learn how to do Marking and Templating. This is a skill in itself. Its worth taking plenty of time over this. You will not appreciate the value of these 'marks' until you start putting your seat pattern together. Trust me!
Module 7 – Creating Diamonds
This Module is a favourite! We will take the mystery out of sewing Diamonds and double diamonds. Once you have mastered this skill, there's pretty much nothing you can't design. You will be able to say that you can make a Famous Bentley Diamond! Stay Calm and enjoy! Shine bright like a diamond!
Module 8 – Making up the New Seat Base
In this Module, we teach you how to make your New Seat Base. All the preparation now comes into play, as you start to piece your pattern back together and it all starts to make sense.
Module 9 – Making the New Seat Back
In this Module, you will put into Practise the New Skills you have learnt. We will guide you in making your new Seat Back. By this time your confidence will be hitting the ceiling. You will be starting to feel like a rock-star!! Just one last piece of the jigsaw…..
Module 10 – Making the New Headrest
Your final Module you will learn how to Make a New Headrest. We will also teach you how to fit and finish. You are now the Very Proud Owner of an Amazing New Seat!! Time to upload those 'before & After' Photo's on the Facebook Page and show the world what you have achieved!!!
Yes, you will also get a free Video Course setting up and using the Industrial Sewing Machine
Frequently Asked Questions
I havent used a sewing machine before...
---
Dont worry ! Most of our students havent used a sewing machine before. You will learn at your own pace and the good thing is you wont have any bad habits ;-)
---
I have used a domestic machine before will this help me ?
---
As we said in the first question, you may have picked up habits from your domestic machine that you wont use on the Industrial machine. Take a look at the video with the lady that used an Industrial machine for the first time.
---
What can I sew on one of these machines ?
---
These machines are brilliant for heavy duty work, the list is endless. Here are some ideas of what you can sew...Car Upholstery, Marine Upholstery, Horsebox Upholstery, Marquees, Tents, Bouncy Castles, Dog Collars, Dog Beds, Sails, Boat Covers, Caravan Upholstery, Motorhome Upholstery, Motorbike Seats, Horse Rugs.
---
What if I struggle with how to do something on the machine ?
---
You will have an hours live Skype/Video call included in this package. After that we are always available on email and other ways of support. We also send videos like the one below to help people if they dont understand something.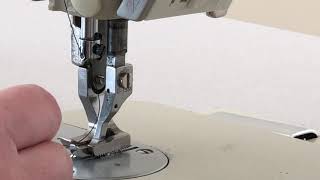 ---
---